Grieving, Believing then Living
Here's a love story between a young lady and a young male in their twenties that ended in a tragedy. Imagine falling in love with someone to waking up to the news that someone has passed away. In life we expect different things, but death is something we really never expect or get used to and when it happens, its a challenge to move forward.
My sister Raven P. is one of the strongest people I know. Since this incident Raven makes sure that she lives her life to the fullest and as inspires others to do the same.
Read all about Raven's journey grieving, believing then living.
How did Louis and Raven meet? Which year?
Louis and I met in the Summer of 2011. At the time I was a senior in Undergrad and had just moved off campus, leasing my first apartment with 2 of my linesisters. One of my linesisters said she had a friend that needed a place to crash for a few weeks until his new apartment was done being renovated. Because we had a spare bedroom that none of us was using, I didn't care. I remember agreeing to letting him stay and cracking jokes about how good looking he better had been. My linesister stated that he was a good looking guy so I trusted her judgement and didn't think anything of it, until . . .the day came for him to move in with us and he knocked on the door. Tall, brown skin, low cut with good hair, basketball shorts, old t-shirt, Jordan's and Ray-Bans. I remember opening the door, standing there looking him up and down thinking "who in the world is this??" –not in a good way either. I guess my demeanor suggested that he had knocked on the wrong door so he apologized and went to walk away. Before letting him walk away I asked who he was looking for. When he said my linesister's name, I knew he was in the right place. During the few weeks he stayed with us, I remember plenty of time being spent with him, just trying to get to know him. The week came for him to move out and it hit me, "I like this man". I expressed my like for him and he advised that he didn't want a girlfriend. No pressure- I definitely wasn't looking to be his girlfriend at the time. I just wanted to continue learning more about him and let the rest go from there if it was meant to happen. We exchanged numbers before he moved out and the rest was history.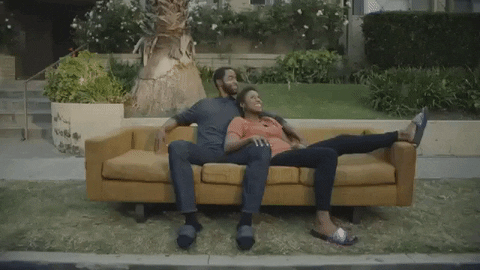 What were you guys favorite things to do?
SPADES!! Him and I were both very competitive and that was a game that we loved and shared a lot of interest in. We held each other down on that spades table. No reneging, no cutting each other's books, talking smack to our opponents and most importantly, winning games! Aside from whooping tail in spade games, we spent a lot of time in the kitchen. He was never the type to want to spend money on food at restaurants because he always thought he could cook better. You couldn't tell him that he wasn't related to Uncle Ben or Aunt Jemina. Good ol' Chef-Boyar-"Lou". Before my pescatarian days, he cooked EVERYTHING and I was the happiest, greediest test-taster there was. One of the last meals I remember him making me was BBQ beef ribs, mac-n-cheese, sweet corn and sweet potatoes- My God, My God…
Explain the chemistry.
The chemistry we had was authentic. No fairytale stories here so I'm not trying to paint a picture of the perfect relationship, because it wasn't, but the love was unconditional between us. For the first time in life I met a man who's love for me I didn't have to question- not once. There's no lie in that. We vibed well without any force. When I would see him, a strong feeling of excitement would overcome me like a big kid. We were genuine to each other, and provided a safe haven for one another.
Explain the night of the accident (year?)
Sunday, April 21, 2013 at 8:00 am, I remember waking up to a call from his sister. She was yelling and crying and she kept saying "Tell me Louis is with you". I stated that he wasn't with me and kept asking her what was wrong. The police had come to her parents' house in Delaware and informed them that Louis had passed in a car accident, killing 2 other people. I immediately screamed and broke down crying. In my heart, it wasn't true so I needed proof. As my linesister drove me to his place, I remember calling one of his friends asking if he knew where he was. I got to his place and his roommate didn't know where he was either. I ran to his room and the bed was empty. As I laid in his bed wrapped in his Los Angeles Laker's (He was a HUGE Kobe fan) blanket, I proceeded to call him- straight to voicemail. In order for me to believe it, I needed to see a body, so my linesister drove his roommate and I to the police station where they handed me the police report stating his information and the time the accident happened – 2:08 a.m. I had just talked to Louis in the 2:00 a.m. hour so my mind raced with 1,000 more thoughts. How could this be possible? After leaving the police station, we went to 2 different hospitals looking for him- no luck. Reality had hit me- he was actually gone. I went home, wrapped myself in his Laker's blanket and cried all day, surrounded by friends.
Most people don't know this but I talked to him literally right before he got into the accident. Again, it was around the 2:00 a.m. hour and I happen to be the last person that spoke to him before he passed. Our last conversation was one I'll never forget but don't really want to remember either. We had gotten into a huge argument and I remember my very last words to him before hanging up on him, were "F*** you! I don't want to ever talk to you again!" I was enraged. I grabbed my journal and started writing down all these ill feelings I had towards him at the moment and I was so upset that I was going to break up with him the next day. Little did I know, I was never going to get the chance to. Guilt was the first thing that overwhelmed me. I figured instead of arguing with him, I could have helped him in some way. It was my fault he had gotten into the accident. Shoulda, woulda, coulda done something totally different. Shameful of my poisonous words. Of all of the words in the English language, why would you chose to say those deadly things to him? Someone you say you love and care for so deeply. Every day after his passing, I begged him for forgiveness. Praying to God to bring him in my dreams or fill the room with his presence just so I could tell him how sorry I was for everything that I had done and said that night. I would never want anyone to feel the guilt I still feel today. Be cautious of your words and learn to forgive. I still haven't forgiven myself for what I've said but I vowed to never allow it to happen with anyone every again.
Explain your grieving process. Describe the pain, not having an appetite, working different jobs, etc.
The pain I felt was indescribable. I had never felt any pain like that ever in life. Not even my worse breakup. I had only experienced one other death in my life- my Great-Grandmother. She was much older and had been hospitalized for an extended period so I knew her time was coming. I felt more prepared to experience the grief after her passing. With Louis passing, this was totally different. You never really expect young people to pass away, at least that was my mindset then. He was 22, just 11 days away from his 23rd birthday. A month prior to his death, I had gone from being unemployed to then losing 2 out of the 3 jobs I had, attempted suicide and had gone into a depression. Life just wasn't working the way I wanted it to at the time. With all this happening, the last thing I needed was for him to pass away. I fell deeper into my depression after his death. I stopped eating, lost a lot of weight, didn't want to be around anyone, couldn't sleep, contemplated on another suicide attempt, I cried every hour- even at work. But most importantly, I cried out to God.
How did you deal with depression?
I found myself asking God why? How? What next? Heal me from this pain!! Life wasn't fair to me with everything I had going on. I knew God was the answer for my healing. According to Psalms 147:3- "He healeth the broken in heart and bindeth up their wounds", and that's just what I needed. I went to church EVERY chance I could. Sunday morning service, Sunday night service, Monday Bible study, Thursday mid-week service, revivals, and all. If anyone wanted to find me, I was either at work or at church. During that time, all I needed was God. Not that I didn't appreciate my friends and family and all of their efforts, but there wasn't anything anyone could do for me. I stopped cursing and drinking, attempting to minimize all the sin I could. I only listened to gospel music for several months and even carried around a bible everywhere I went. I didn't need any more attacks from the enemy so I had to stay prepared and suited with the Full Armor of God. Strengthening my relationship with Him helped me with my depression. Leading me to become baptized 5 months later.
What is the best advice for someone who is dealing with depression and grief?
Trust in God, always. Psalms 126:5 states, "They that sow in tears shall reap in joy." I believe that, wholeheartedly. For grief: Never let anyone tell you how you should grieve. This is YOUR grieving process. As long as it doesn't result in you harming yourself, you should be able to grieve as you please and for however long you chose to grieve. They aren't the ones feeling YOUR pain. For depression: In life we have storms, some worse than others. At the end of the storm there is ALWAYS a rainbow. The rainbow is God's many promises to us in His word. he didn't say the weapons wouldn't form, He just said they wouldn't prosper- Isaiah 54:17. So remember that He has you covered always and forever.
How has this incident affected your dating mindset?
Dating….HA! The incident actually made me close minded about dating. Do I still date? Of course. But often times I find myself comparing a guy to Louis. At one point I was searching for Louis himself in a different form. If they didn't have certain attributes as him or make me feel like he did, then I tend to put them in the friend zone. Wrong? Of course. Close minded? Heck yea. However, I've gotten a tad bit better at being more open. For a while I didn't have the desire to date anyone- no matter how fine they looked or how much they made me laugh. Remember, never let anyone tell you how you should grieve- And I'm still grieving.
What are some activities you would suggest others to do while dealing with depression and or grieving?
Whatever makes you happy or close to happiness, like Nike says, JUST DO IT! Stay busy and never let your mind be idle. The saying goes, "An idle mind is the devil's playground". Don't allow him to have that much power over you.
For me, I love to laugh and joke around so during my depression I watched a lot of Martin TV sitcom episodes, funny movies, or spent time with my friends because I knew they'd make me laugh and uplift my spirit. I literally would laugh to keep from crying.I also made sure I was in church, no matter the day so I could stay connected to God. Great stress relievers for me were also writing, working out and getting amped over listening to motivational speakers (i.e. Eric Thomas, Les Brown & Tony Robbins- Some of my favs). We create the lives we want for ourselves. Do you want to stay here forever? If not, where do you want to be? So I made the vision plain, and created a vision board for my life- this played a huge part in helping with my depression.
How has this incident changed your life? Talk about how you are traveling and more open minded…
My life changed significantly because of this. I am much more cautious of the things I say to people and how I treat them. Words hurt, sting and burn. I never want to hurt anyone with my words or actions again or have the guilt of having my bad word choice or actions be my last encounter with someone. Forgiveness isn't easy but you must forgive people, even yourself.
Of course, most importantly, God and I became much closer. I also have a different perspective on life and am much more open minded. Sounds cliché, but life is way too short not to do what YOU want to do. I live to make myself happy now and encourage those around me to do the exact same thing. I've been delivered from depression and never want to go back.
I went back to school and got another degree, because I wanted to. I booked those plane tickets to see different parts of the world, because I wanted to. I dated that guy, because I wanted to. I took random trips to visit my friends, because I wanted to. I took classes to learn something new, because I wanted to. I carelessly spent money on things I liked, because I wanted to. I chose to eat the unhealthy food and snacks in that moment, because I wanted to. I changed my hair a thousand times to suit my mood, because I wanted to. I moved to a new state, BECAUSE I WANTED TO. All of those things at one point made me happy. Today, I live my life happy and fearless- and if God is with me ALWAYS, why should I be unhappy? More importantly, why should I fear anything? No regrets, and taking nothing for granted.